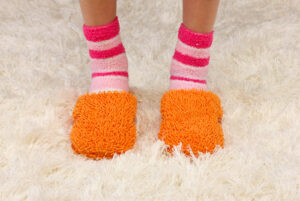 Carpets are multi-talented. They soften a room, make it cozier, warm it up, and can even make rooms look larger. Carpeting also helps people who suffer from allergies and asthma by acting as a healthy filter and collecting allergens within the fibers of the carpet. Making your carpet work for you, however, begins with having a clean carpet. Even if your wall-to-wall carpeting seems fresh and new, deep down, you must have your floor covering properly disinfected to do the job it is intended to do.
4 factors to consider when choosing home carpeting >>
The Secrets Your Carpet Is Hiding
Many homeowners choose beige or cream-colored carpeting to brighten a space. While this subtle shade of carpeting doesn't do you any favors when it comes to wine or food spills or major stains, light-colored carpeting is very good at hiding anything and everything miniscule within its fibers, such as:
Food: If you eat in a room that is carpeted, it is a simple fact that there are food particles among the threads. Some are more easily visible than others – none are good for the life of the carpet.
Skin cells: Every person sheds millions of skin cells hourly. If you think nail clippings or stray hairs caught in a carpet are gross, think about everything you can't see that's stuck in there.
Bacteria: Do you walk on your carpeting with your shoes on? Do you walk barefoot on your carpeting? Anything that sticks to your feet – whether covered or uncovered – can stick to the carpet. Communities of bacteria, from E. coli to salmonella, can live underfoot.
Pet messes: Even if your pet is fiercely well-trained, even if you have a short-haired, low-shedding pet, they're adding their own bit of yuck to your carpet. Hair, dander, urine, feces, and whatever your four-legged friends pick up on their paws – it's all hanging out within your carpeting.
The rest of the gross stuff: Mold, pollen, dirt, dust, insect husks – yeah, there are plenty of other unidentified, nasty things living in your carpet… even if you can't see them.
6 clever ways to childproof your carpet >>
Preventive Measures for a Healthy and Clean Carpet
If you vacuum daily, you will keep a clean carpet. In fact, it is recommended that you vacuum at least as many times a week as there are members in your home (including pets). But even if you have a vacuum cleaner with high-powered suction that releases and captures what's hidden throughout your carpeting, you're not thoroughly disinfecting the carpet fibers.
You may have concerns about cleanliness in high-traffic carpet areas. It's true that these sections of carpet will take more abuse than the rest of your carpet covering, and they likely need some extra TLC. You can keep some of the dirt and debris and bacteria at bay by putting throw rugs over the high-traffic areas. However, it's still important to vacuum underneath the throw rugs and remove them for professional carpet cleaning treatments.
It's Easy to Keep Your Carpet Clean
Why is it so important to keep your carpet clean, beyond the obvious? Carpeting is a big investment in a home. A carpet that is well-maintained will last longer, be easier to maintain, protect indoor air quality, and, of course, improve the appearance of your home. Have your carpet cleaned at least once every 12 to 18 months – if you are unable to vacuum often, the professional cleaning should occur more often. Contact Nu-Way Carpet Cleaning in Macomb, Michigan, for carpet cleaning in Sterling Heights to talk about the cleaning needs for your home.