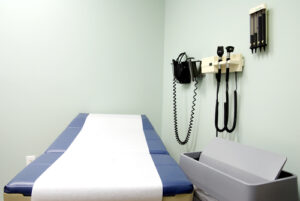 Business offices are notable for multi-use waste cans, full recycling bins, and coffee rings on desks. Medical offices have the same, but these facilities require additional cleaning duties, special precautions, and attention to detail to ensure a safe, healthy space for patients and staff. Janitorial services from an experienced Michigan cleaning business fulfill the unique medical office cleaning needs.
Germ eradication
Where there are doctor's offices, there are sick and ailing people. Not every affliction is contagious, but no one – including the medical office staff – wants to walk away from a doctor's office feeling less healthy than they did going into it. Sickness means a compromised staff, lost work days, or patients who may blame your facility for getting them sick, or sicker than they already were. Attention to detail is critical, from sanitizing doorknobs and light switches to cleaning the reception area and bathrooms, to using carefully coded supplies and equipment to avoid cross-contamination.
Must-have office cleaning needs for every corporate space >>
Careful trash disposal
While many medical offices have special containers and pick-ups for the disposal of needles and contaminated items, it is always possible that a sharp or other instrument can be thrown into the wrong trash can. It is critical to handle waste properly in a medical office (not push down trash with the hands) to avoid being stuck with a needle or other piece of equipment, no matter which part of the facility the trash originates in. Professionally trained medical office cleaners know to wear gloves to avoid contaminating any other surfaces.
Healthy environment
Medical offices, more than any other business, require immaculate facilities. A medical office should exude cleanliness, from squeaky tile floors to spot-free carpeting, odor-free spaces to stain-free surfaces. Many patients are nervous when visiting a doctor, even for well visits. What they absolutely do not want to see is any sign of filth, blood, or evidence of the patients who came before them. Infection control and thorough disinfection are part of quality assurance for a medical office.
Is your carpet clean or does it just look that way? >>
Environmentally friendly cleansing
While there is a need for meticulous medical office cleaning, there is also a desire by many facilities (and their patients) to have cleaning done using green products. Because complete disinfection is essential in medical offices, this green request can be a difficult order to fulfill. There are products available, however, that are made with fewer and safer chemicals to provide a comprehensive clean while still being kind to the environment.
Fresh air
Medical offices are unlikely to throw open a window to let in fresh air, but air quality is especially important in this environment. Powerful vacuuming and carpet cleaning, along with careful dusting and surface cleansing remove dirt and airborne particles, from allergens to germs. The result is cleaner and healthier air for every person who frequents your medical office.
4 big benefits of commercial carpet cleaning for your business >>
Medical offices have special requirements when it comes to medical office cleaning and facility disinfecting. Contact Nu-Way Carpet Cleaning in Macomb, Michigan, to get the carpet cleaning in Sterling Heights you need most.