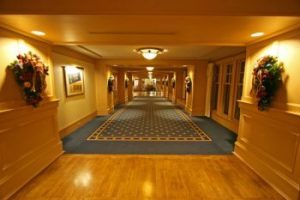 The hospitality industry is an around-the-clock business, which doesn't leave much downtime for cleaning efforts. While guests expect to see housekeeping tend to guest rooms daily, they may not wish to encounter hotel carpet cleaning jobs as they are underway. Nevertheless, this preference doesn't mean you can slack on your establishment's cleanliness efforts; it just means you must be as thorough as possible without interrupting the business at hand.
Serving Guest Rooms and Multi-Use Rooms
While the majority of a hotel's guests are on the premises for a place to sleep, there are exceptions that require special cleaning considerations. If you host weddings, parties, conferences, meetings, or happy hours, a carpet can be attacked with everything from alcohol to soft drinks, candle wax to chocolate.
Identifying carpet stains is half the battle in taking care of them properly so your flooring isn't damaged by soils. The guest rooms themselves are hotbeds of activity and the carpeting can house a wide range of liquids and substances, including blood, coffee, gum, crayon, cosmetics, hair products, lotion, urine, and ink. Only a professional carpet cleaning company can truly tend to what lurks beneath.
Identify the differences between carpet stains, soiling, and spots >>
Are You a Pet-Friendly Hotel?
Pet-friendly hotels require special cleaning methods, including seriously powerful stain removal. After all, pets mean shedding, odors, and all the dirt and particles they're tracking into your establishment from the great outdoors. There will be times when not every guest has a pet tagging along with them, so you ideally have rooms designated for pets and their owners and rooms that are pet-free areas.
Thorough cleanings should of course be done in all guest rooms. Even though the pet-occupied spots are more likely to have tile and sturdy upholstery, whatever the décor, it all needs to be cleaned after every visit and deep-cleaned by professionals on a regular basis.
4 big benefits of commercial carpet cleaning >>

Behind-the-Scenes Clean
Cleanliness behind the scenes is just as important as cleanliness in high-traffic areas. While your guests may never see the service hallways, these are high-traffic areas for staff. Neglecting the care of this space is problematic for not only sanitary reasons, but the floor-covering – carpeting or tile – will also be a major eyesore and wear out much sooner, requiring replacement. The last thing you want is a guest of your establishment to see a poorly maintained back of the house.
Did you choose the right carpet for your hotel? >>
Beyond Carpet Cleaning
Along with the carpeting in your hotel or motel, there are plenty of other cleaning considerations, such as tile and grout (in the bathrooms, lobby, elevators, and hotel kitchen), hardwood or laminate flooring, and upholstery (on benches, lounge chairs, bar stools, and all furniture in guest rooms). You want deep cleaning and shine, and even power washing for the exterior of your establishment.
Is your carpet clean, or does it just look that way? >>
Thorough but Under-the-Radar Maintenance
The goal is to maintain a healthy, attractive, clean establishment without inconveniencing guests. Your carpet cleaning service should be able to accommodate your needs and work around busy times. At Nu-Way Cleaning Services, we have state-of-the-art truck-mounted cleaning systems. Our steam extraction method decreases drying time between two and five hours.
While Michigan hotels certainly get their fair share of foot traffic, carpets and flooring must be well-maintained to last longer, protect indoor air quality, and help your hotel look like a five-star establishment. Contact Nu-Way Carpet Cleaning in Macomb, Michigan, to talk about the cleaning needs for your hotel or motel.