Steam Cleaning
Steam cleaning is the only method of carpet cleaning capable of removing dirt from deep down in the carpet fibers. No harsh cleaning chemicals are used, and no unpleasant odors or soiled areas are left behind with quality steam cleaning. The removal of dirt, dust, and other bacteria and allergens allow for beautiful, immaculate carpet that will last for years. Choose Nu-Way Carpet Cleaning, serving Macomb, Michigan, and neighboring areas, to do your carpet steam cleaning.
How Does Carpet Steam Cleaning Work?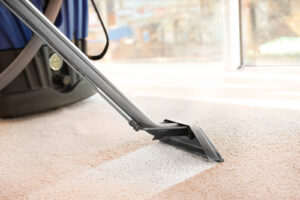 When you scrub a stain from your carpet by hand, this isn't enough to clean a spot or soiled area. The surface area may see some improvement, but this method will do nothing to eliminate the gross stuff below the surface. What's hiding in your carpet that you can't see that should worry you – only steam cleaning will get all the undesirables out.
Steam cleaning is done when water is heated beyond the boiling point and forced through a nozzle or brush as pressurized steam. The vapor molecules do the difficult but important job of loosening dirt while also killing mold, dust mites, and other harmful agents like E. coli and salmonella.
The Many Benefits of Michigan Steam Cleaning for Your Carpet
Steam is a deodorizer and sanitizer that, through heat and moisture, thoroughly removes debris from the carpet. The benefits are many, and the result is a healthy, strong carpet that will last longer and look better.
Chemical-free
Carpets that are chemically cleaned dry faster than those that are steam cleaned, which may appeal to clients who are in a rush. The trade-off, because there is one, is trifold: There are now chemicals in your rug, this type of cleaning only addresses the top layers of carpet, and it is possible for residue to be left behind, exposing you to chemicals. Steam cleaning only requires water and heat, making it the most people-friendly method of carpet cleaning.
Cost-effective
Shampoo costs money. If you're having your carpet "washed" with a chemical agent, you're paying more for this service than for steam cleaning, which only needs a water source to keep the cleaning going.
Deep cleaning
Steam cleaning treats stains that are deep in the fibers of the carpet. This thorough cleaning reaches down to the pile, the lowest layer of your carpet, to thoroughly clean it and destroy ground-in stains. That spot you never thought would disappear? Steam cleaning attacks it with great success.
Environmentally friendly
Steam cleaning eliminates the step of washing carpet-cleaning chemicals down the drain and into the environment, which minimizes any threats to waterways and wildlife. Household cleaners contribute to emissions of organic compounds, which pollute the air, cause irritation in the eyes, nose, and lungs, and contribute to headaches, asthma, rashes, and more. Steam cleaning is better – and safer.
Versatile
Steam cleaning can be used to treat many different floor surfaces, including:
Carpet
Tile floors
Upholstery
Laminate flooring
Linoleum
Grout
Controls allergens
You may keep your windows closed and your vents cleaned, but pollen still makes its way inside, whether on your shoes, clothing, or body. Dust mites and particles that make themselves known in a stream of light are one of the biggest allergy triggers.
While a carpet is good at trapping allergens and irritants, those particles and bacteria must then be removed from the carpet – steam cleaning is the safest and most allergy-friendly way to do so, cleaning not only what's underfoot but contributing to better indoor air quality.
Choose Nu-Way Steam Cleaning Services
Get a thorough, quality steam cleaning from Nu-Way Carpet Cleaning. Our services include:
Pre-treatment of stains
Steam cleaning with on-board water system
Scrubbing of stains and high-traffic areas
Clear-water rinse with no residue
Raising and blocking of all furniture
Dry time of two to five hours
Extraction of dirt and moisture through truck-mounted system
Choose Nu-Way Carpet Cleaning, serving Macomb, Michigan, and neighboring areas, to do your carpet steam cleaning.  Contact us today for a steam cleaning estimate.