Tile Cleaning and Grout Cleaning
Trust the Nu-Way Experts!
Tile Cleaning and Grout Cleaning by Nu-Way
Everyone has elbow grease, but do you really want to use all your resources and spend hours on your hands and knees with a toothbrush to get your tile and grout clean? With a professional tile cleaning and grout cleaning, your old floors can look brand new again, and they will be far cleaner than they've ever been. Even your most vigorous and thorough hand-scrubbing efforts won't result in a cleaning that gets down deep into such porous surfaces.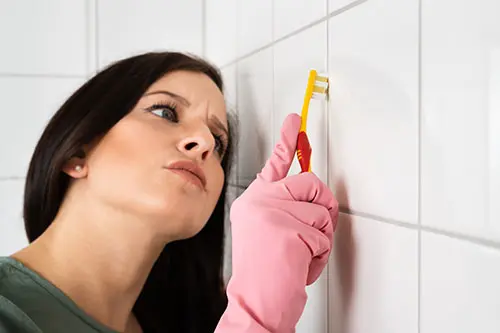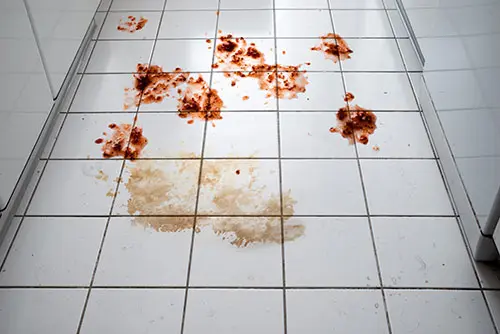 Why Does Grout Get So Dirty?
Because tile is attractive and durable, it's often used in high-traffic areas – after all, it's pretty easy to clean up a spill or stain from tile. But with tile comes grout, and grout can be frustrating for a homeowner. No matter how immaculate your tile is, the grout may remain dingy, stained, or dark – and that's not a reflection of the cleanliness of your home. Grout is typically light-colored and porous, which simply makes it prone to staining.
And, of course, the porousness of your grout – and even stone tile – does make it susceptible to bacteria, particularly in the kitchen or in bathrooms. Regular mopping, wiping, or sweeping are important, but if you don't deep clean your floors, the tile and grout will remain filthy deep down inside. Bacteria, germs, and grime will easily spread among your family members and pets.
High-Traffic Areas That Need Tile and Grout Cleaning
Certain areas of a home function far better when they are equipped with tile floors. The usual suspects include:
Entryway: Your main route in and out of your home gets a lot of traffic, and if it's covered with tile and grout, you can be sure that this is the first surface that is absorbing any dirt and grime you and your family and pets are bringing in from outdoors.
Mudroom: The name says it all – a mudroom is a wonderful location for your child to kick off his or her cleats or muddy boots, and it's an ideal space to entertain a wagging dog who's just played outside, but the mudroom no doubt has one of the filthiest floors in your home.
Kitchen: If you've opted for tile in your kitchen, then the floor is susceptible to any number of damaging stains and spills, from wine to sauce to dark berries. The food items don't even have to be particularly stain-inducing to cause a problem. Food particles that hit the floor but aren't thoroughly cleaned up will fester over time.
Bathroom: Your bathroom is where you get clean, but how clean is your tile and grout in your bathroom? Soap, mildew, mold, and hot temperatures make it difficult to maintain healthy, clean grout. And tile build-up isn't uncommon in this area where gels, sprays, lotions, and scents douse the floor regularly.
Whether your floor is covered with ceramic, concrete or travertine, each surface can undergo a cleaning – if it's done the right way with professional equipment and expert tile and grout cleaners.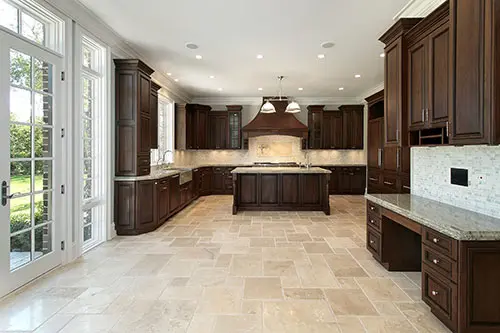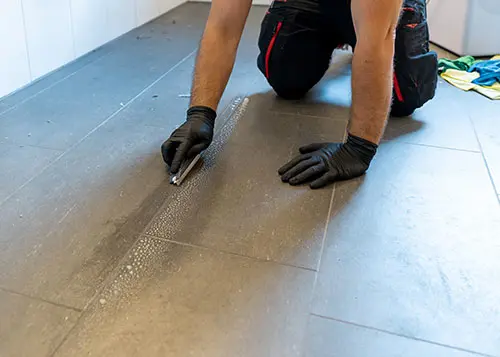 Benefits of Professional Tile and Grout Cleaning
Mild cleaning solutions are the recommendation when you're attempting to clean your own grout and tile, but when you're hiring a professional to do your tile cleaning and grout cleaning for you, expect the best and the most rigorous cleaning methods to get the job done right.
A professional tile and grout cleaning should offer the following benefits:
Deep cleaning: Just like with carpet cleaning, you can vacuum every day but this effort won't get deep down in your rugs – you need a professional carpet cleaning to really achieve that. You can wipe your tile floors and grout daily, but this will not deep clean where bacteria has penetrated. A professional tile and grout cleaning actually gets down in the pores and sucks out the gunk.
Restore appearance: You may think that it's necessary to regrout to brighten up your existing floor and make it look new again. But regrout is not your only option. A professional tile and grout cleaning restores the appearance of your floors and can actually restore a healthy shine to your floors, so they look brand new again.
Product lifespan: Stone and tile are so durable they should last a long time – restoring the appearance of your floors with a professional tile and grout cleaning allows your chosen surfaces to live up to their potential and extends their lifespan.
Special cleaning products: Professional tile and grout cleaners use specialized cleaning solutions and deep-cleaning extraction equipment in order to remove built-up dirt and grim within your tile and grout.
Preventive measures: When you've taken the time and money to have your tile and grout-covered floors professionally cleaned, make sure that you select a service that also provides preventive treatments, including sealants to keep out dirt and germs in the future. This method gives you an opportunity to clean spills quick.
Choose Nu-Way Cleaning Services for Your Tile and Grout Cleaning
When you choose Nu-Way Cleaning Services for your tile cleaning and grout cleaning, you'll receive the following treatment:
Pre-spot treatment with tile and grout cleaner
Hand or machine scrubbing of all high-traffic areas
Tile cleaning and grout cleaning tools that spin at high resolutions
Tile power washing at 250 degrees that provides extra sanitizing
Simultaneous extraction and cleaning
No water and no residue left behind
Sealants to extend the life of the tile and grout, create a barrier against germs, and allow for easy maintenance
Preventive measures to protect from future stains and spills
The Nu-Way is the proven way to clean your tile and grout. Contact us today for an estimate for your residential or commercial location in Macomb County and the surrounding areas.