Janitorial Services
Make Your Working Life Easier
Nu-Way Janitorial Services
Workspaces are busy places with multi-use areas that endure plenty of foot traffic and activity every business day. Your employees, however, can be distracted by unclean areas – full garbage cans, mug rings on conference tables, stains on carpets, smeared windows. Not to mention, your clients and customers won't be impressed by areas that are dingy or dirty. Janitorial services and commercial office cleaning services make sure that your place of business is spotless, from top to bottom.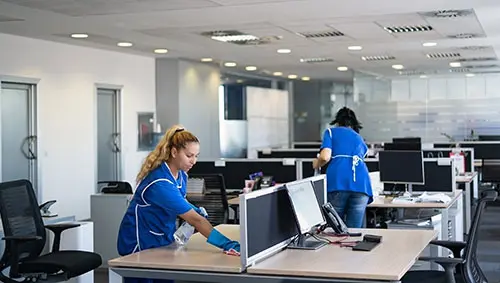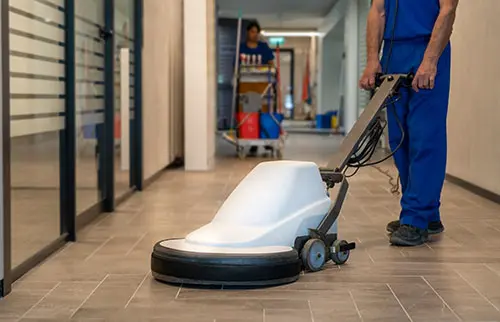 Types of Janitorial Cleaning Services
Nu-Way's comprehensive cleaning service is staffed by janitors who are trained to deliver thorough sanitation, sweeping, scrubbing, disinfecting, and deodorizing of your office space. It's also possible to customize your cleaning solutions to suit your work area so that some areas get extra TLC while other areas remain untouched.
Here are some of the janitorial services available:
Surface cleaning: From personal offices to shared cubicles, the computers, desktops, chairs, and tables of every employee all accumulate dust. This gathering of dust is not only unsightly and an annoyance, the build-up can be harmful to the work environment and the health of your employees. From bookshelves to computer towers, every surface will be dusted and wiped down to keep allergens at bay.
Floor cleaning: Weather changes and constant shoe-wearing will wear out your floor surfaces quickly from constant daily foot traffic. Whether your office has carpeted floors, hardwood, tile, marble, or all of the above, cleanliness starts from the bottom up – and nothing screams clean like a well-tended floor. Powerful, state-of-the-art cleaning equipment will eliminate deep-down grime and keep your office floors looking like brand new.
Trash removal: Those trash bins fill up quickly every single day, and the last thing anyone wants to smell first thing in the morning in the office is yesterday's lunch. From the biggest trash cans in your common areas to individual under-the-desk waste baskets, regular janitorial service means your bins are being emptied so that your office remains odor-free.
Window cleaning: When that sun shines in, you want it to really shine in and douse your employees and customers with energizing rays. Streaky, dirty, pollen-covered, or dusty windows get in the way of a nice view and gorgeous natural light. Windows will be cleaned inside and out so everyone can see that you take great pride in the cleanliness of every part of your office.
Upholstery cleaning: Your office upholstery is hardly self-cleaning, and whether you're the only person who uses your office chairs or couch, or whether you have clients and colleagues streaming in and out all day long, the upholstery is going to need some care. From leather to suede, from pen marks to coffee stains, upholstery cleaning restores your furniture and makes it look new again, no matter how aged it is.
Restroom cleaning: Offices vary in the type of restrooms available to employees and the public. Some are multi-stall restrooms, others are one-toilet rooms for individual use. Regardless of the bathroom set-up in your place of business, this is one of the most important areas to maintain, not only for safety sake but for the satisfaction of your employees. Health hazards lurk at every corner in restrooms, and they must be tended to regularly with the proper sanitization and restocking of supplies.
Kitchen cleaning: Offices that have on-site kitchens or designated eating areas get a great deal of use, and this is one place where cleanliness must reign supreme. Tabletops must be wiped and sanitized, floors under tables must be swept for crumbs and scrubbed for spills, refrigerators must be emptied and cleaned, trash must be tended to. The list is long when it comes to kitchen cleaning, but an outsourced janitorial service will take care of everything.
After-hours service: Some offices are so busy during normal business hours that any interruptions can be detrimental to their work flow and progress. Choose a janitorial service that offers 24/7 service so you can have someone on-site, doing the work of busy mice after the desks and hallways have emptied, doing the diligent work of preparing the office for the next day's hard work.
Types of Facilities That Need Janitorial Services
Your business may be small or large, quiet or busy, but quality cleaning services are always necessary no matter what kind of working environment you're operating. Some of the places that use professional janitorial services or commercial office cleaning services include:
Office buildings
Class A office space
Class B office space
Multi-tenant buildings
Churches
Schools
Universities
Hotels
Financial institutions
Retailers
Car dealerships
Medical facilities
Restaurants
Hospitals
Day care facilities
Libraries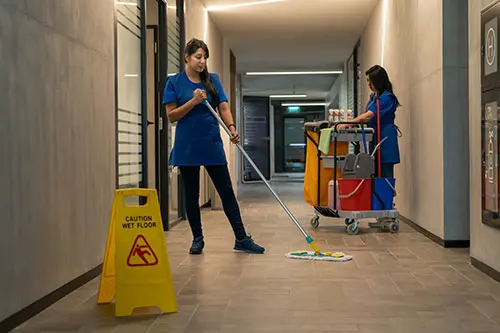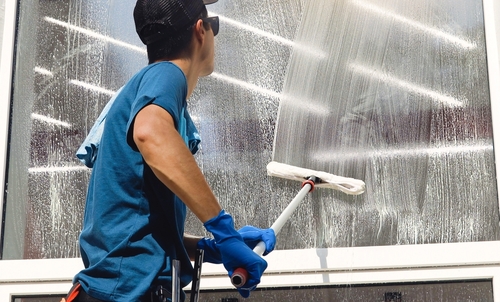 Choose Nu-Way Cleaning Services for Your Janitorial Services
Cleanliness is our area of expertise, and our goal is to make your working life easier and more productive because you have a clean environment in which to tend to your business.
We provide:
Office cleaning
Industrial cleaning
Stripping and waxing
Carpet cleaning
Upholstery cleaning
Cubical cleaning
Window cleaning
24/7 service
The Nu-Way is the best way to keep your office operating smoothly. Contact us about our 24/7 janitorial services in Macomb County and surrounding areas.