Troy Carpet Cleaning Service Professionals
Carpet Cleaning Troy
Our Troy Carpe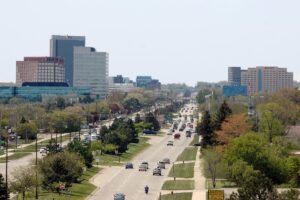 t Cleaning team knows that the best way to keep your house clean and free of bacteria, allergens, dust, and mold is to have your carpets professionally cleaned at least once year. We recommend twice a year for pet owners. Carpets and upholstery generally take a lot of abuse. Tending to spills and spo
ts as soon as they occur, taking off your shoes before you walk on the carpet, and vacuuming frequently will go a long way towards helping keep your carpet clean between professional visits. Carpets that are not regularly cleaned will not only look dirty, but they can become smelly, too. Beyond vacuuming regularly, your carpet will also benefit from a professional deep cleaning. Contact Nu-Way Carpet Cleaning in Troy, Michigan to schedule your next carpet cleaning appointment.
Nu-Way offer a number of different types of cleaning services including:
Troy, Michigan
Located in nearby Oakland County, the city of Troy was first settled in the early 19th century. A suburb of in Oakland county, it is the 11th largest city in Michigan by population and the largest in Oakland County. Troy is known for being one of the safest cities to raise a family in, and has been ranked on the list of "Best Place to Live" in the United States several times. The city features a vibrant business and technology center and several large corporations including Delphi, Flagstar Bancorp, and Kelly Services are headquartered here.
Below is a list of important contacts in Troy, Michigan that you may need.
Troy Car Accident Reports
Troy Police Department
500 W. Big Beaver Rd
Troy, MI 48084
(248)-524-3443
Troy Fire Reports & Ambulance Run Sheets
Troy Fire Department
1019 E. Big Beaver Rd
Troy, MI 48083
(248)-524-3419
Troy Dog Bite Reports
Oakland County Animal Control Department
1700 Brown Road
Auburn Hills, MI 48326
(248)-391-4102
Troy Autopsy Reports
Oakland County Medical Examiner
1200 N. Telegraph Road #28
Pontiac, MI 48341
(248)-858-5097
Troy Poisonings & Public Health Claims
Oakland County Health Department
27725 Greenfield Road
Southfield, MI 48076
(248) 424-7000
Contact Us For Your Troy Carpet Cleaning Needs
If you would like to schedule a consultation or cleaning, please call us at (586) 991-3800. Only $25 per room! Nu-Way is a family-owned and operated business. We have been serving residential and commercial customers for over 30 years! We are dedicated to using environmentally safe products and our technicians are certified to use our state-of-the-art truck-mounted system. You'll love the results!