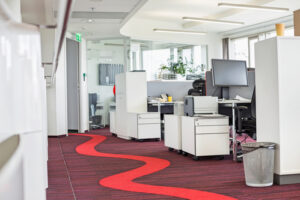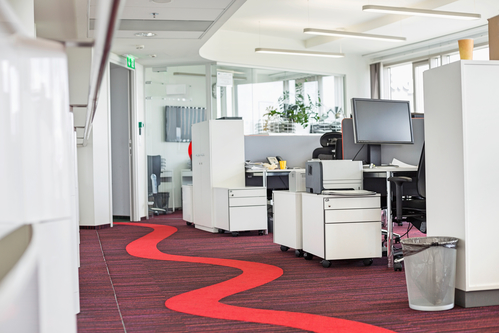 Depending on the line of business you're in, you may not give the carpet in your environment much thought. The reality, however, is that carpet makes a big difference in the success of your operation. Commercial carpet cleaning is important aspect of your business. And a professional carpet cleaning can help keep your good reputation intact.
How can carpet have such a big impact on your business? After all, it's merely a surface that people trod across day in and day out. But carpet affects much more than just your feet. Here are just four big benefits of a commercial carpet cleaning:
Offer a Good First Impression
If you have customers coming in and out of your door all day long, you better believe that plenty of them are noticing the condition of their surroundings, including the floor. A stained or dirty surface implies that the rest of the space is also unclean, or that you simply aren't diligent enough to stay on top of the appearance of your business. From bowling alleys to medical centers to museums, customers might have doubts about the cleanliness of your entire enterprise and your ability to serve them, which will absolutely affect first impressions, your reputation, and repeat business.
4 ways to combat high-traffic carpet areas >>
Help Employees Stay Healthy
People who work in a corporate environment likely spend more time there than at their own homes. Whether your business is populated with offices, cubicles, or both, the goal should be to keep employees healthy – and providing a clean carpet is one way to make that happen. The deep-down dirt in the carpet gets whisked away, which means allergens, dander, dust mites, and more are eliminated too. Plus, a cleaning helps reduce the spread of germs, bacteria, and mold. Regular carpet cleanings mean a healthier work environment.
Maintain a clean carpet through the Michigan winter >>
Preserve the Life of Your Investment
Any business expense is carefully considered and budgeted for and, ideally, doesn't have to be replaced or upgraded anytime soon. Regular carpet cleanings not only help maintain the like-new appearance of your floor covering and remove dirt, they preserve the big investment you made in this major purchase. Ideally, you've made a thoughtful carpet purchase for your territory that is capable of withstanding normal wear and tear. Professional carpet cleanings help support the longevity of your carpeting.
5 typical carpet stains discovered after a party >>

Improve on What You Have
We are creatures of habit, and even if you have wide hallways and spacious offices for employees, clients, or customers to spread out in, people will walk the same paths repeatedly. These behaviors make it difficult to maintain a uniform carpet appearance. High-traffic areas become highly visible and, if you're dealing with a sub-par carpet, begin to wear away. A professional carpet cleaning will help restore the natural, clean appearance of your carpets, and improve their texture from all the tamping down and abuse the carpet takes.
In most commercial settings, carpet is the number one floor covering. While you may have daily or weekly cleaners who tend to your rugs, the power of a vacuum cannot compare to the power of a professional-grade extractor. And do-it-yourself carpet cleaning methods put you at risk for water-logged floors that will wind up full of mold. Leave your carpet needs to us. Nu-Way Carpet Cleaning in Macomb, Michigan, is happy to take on your commercial carpet cleaning needs, no matter what type of business you operate, no matter what size. Allow us to preserve your carpet, and your reputation.