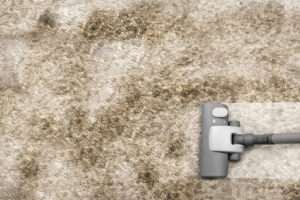 Feeling ambitious about cleaning your own carpets? This surge of enthusiasm can translate into an undertaking that is far too big for you to manage properly on your own. Sure, there are carpet cleaning machines for rent at some grocery stores and home improvement stores. The fact that these machines are available encourages the do-it-yourself mentality. But carpet cleaning is one DIY adventure that could go very wrong during or after the fact.
Here are just four dangers of DIY carpet cleaning:
1. Weak carpet cleaning machine.
Of course a carpet cleaning rental machine is compact. If you have to lug it home in your car and drag it around your house it has to be manageable. Because the carpet cleaning machine has to be user-friendly, it is likely to be light on power, which means poor results, unlike van-mounted professional-grade equipment. Of course, you can seek out carpet-cleaning gear that has a greater punch of vacuum power, heat, and water pressure. But you'll never see a professional carpet cleaning company resort to this type of equipment. You might be able to get your carpet a little cleaner with a DIY machine, but it won't compare to a professional job.
5 reasons you must clean the carpet before baby arrives >>
2. Overly damp carpets.
Your carpet stains may be driving you crazy so that you feel like you have to take efforts into your own hands. When you clean your carpet yourself, however, the opportunities for user error are many. One of the most important elements of carpet cleaning – which is a wet process – is to make sure the carpets dry properly afterward. Inadequate drying can lead to smelly carpets, discoloration, shrinkage, and, most disconcertingly, mold.
3. Ruined carpets.
Not only does overwetting carpets cause all of the problems listed above, one of the biggest problems with DIY carpet cleaning is that it can lead to delaminated carpets. Done incorrectly and with too much water, a non-expert's carpet cleaning efforts can actually ruin a carpet completely. Delaminated means a wall-to-wall carpet has separated from its backing – and you will know it when you see it. Delaminated carpet is wrinkled in spots and cannot be flattened out. It's an unappealing look that, no matter how new your carpet is, can make your home look poorly tended to and your carpet cheap.
The importance of carpet cleaning for pet owners >>
4. Quickly soiled carpets.
With all the effort that goes into cleaning a carpet, you would think that the fresh look should last for quite some time. But if the carpet soils again rapidly, it is likely that too much detergent or soap was used in your DIY efforts. The high residue content of soap or shampoo is sticky and easily attracts dirt and grime, as well as any dust particles that settle. Vacuuming and DIY carpet cleaning methods will not be able to completely release the dirt that is stuck to the residue within the carpet fibers and the carpet stains and spots you managed to extract with your solo efforts will seem to come right back.
Save yourself stress, effort, and unpredictable results. Contact Nu-Way Carpet Cleaning in Macomb, Michigan, to discuss a professional-grade carpet cleaning for your home.