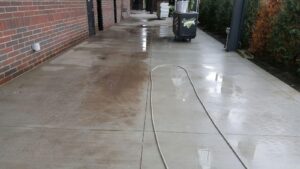 No matter the season of the year, you may find yourself standing outside your home or business looking at the façade and wondering how you can possibly improve as much of it as possible while staying on a budget. Wear and tear to a building is natural, no matter what materials the structure is made of. Weather, insects, birds, rodents, dirt, pollen – any and all of these factors can influence the appearance of your home, and make it look dingy and dirty. Power washing is the fastest solution for outdoor maintenance, and it can tackle a wide variety of surfaces for deep-down cleaning.
Before Power Washing
If you've never had any exterior part of your home or business power washed before, chances are you haven't really seen what a power washing can do. "Power" is in the name for a reason – all the elbow grease in the world cannot compare with this effort. A grey and white deck will become vibrant again. A sidewalk and driveway will go from drab to gleaming. Siding will look immaculate.
How can power washing work any better than Mother Nature's wind and rain? The name of this treatment should be enough to explain why. Done correctly, "power" washing has the capacity to truly blast away debris, dirt, and years of weathering. But you may not really understand the extreme difference until you see it with your own eyes. From stucco to brick and mortar, parking lots to gutters, wood to cement, power washing creates an incredibly clean surface.
After Power Washing
The aesthetic benefits of power washing are obvious. Your structure and surrounding areas are simply going to look brighter, newer, and better. But power washing has other benefits: If you thought areas of your home needed to be replaced or upgraded, a thorough power washing can show you that decking, siding, or other surfaces are actually not in as bad a shape as you once thought. Plus, powerfully pushing away the debris on these surfaces extends their lifespan (and lowers the tracking of dirt from outside to inside).
After power washing is complete, you will truly be able to see what areas of your home need repairs. Ideally, the list is shorter than it was before power washing. And, ideally, your power washing company has inspected the area before cleaning so that you are aware ahead of time of any gaps, damage, chips, cracks, or rust.
The Commercial Power of Power Washing
Commercial properties typically undergo greater abuse than private homes, thanks to foot traffic, auto traffic, pollution, smoke, garbage, littering, oil, grease, and more. It won't take long or take much for a commercial area to look run down. Regularly and heavily frequented establishments, like major sporting or concert venues, restaurants, and shopping malls benefit incredibly from power washing.
Nu-Way is the official provider of cleaning services – including power washing – to the new Jimmy John's Field Baseball Park in Utica, Michigan. Ready to have your home or business look as good as new? Contact Nu-Way Carpet Cleaning in Macomb, Michigan, to discuss your power washing needs.