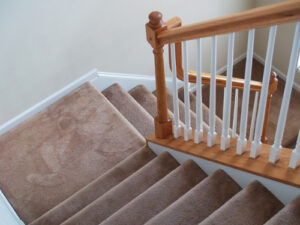 We are creatures of habit. Whether you and your family take your shoes off before walking on the carpet or not, there are certain areas of your carpet that get more use than others. And walking paths are unlikely to change once a habit has been formed. People take the same path from living room to kitchen. They walk on the same section of the stairs. High-traffic carpet areas can quickly become dingy, dark, and worn. It helps to know how to cope with the inevitable dirt in between professional carpet cleanings.
What types of carpet stains do you have? >>
Get Moving
If you live in a home where people are not fond of change, then you probably don't move your furniture around all that much. While you shouldn't simply move a couch or chair to cover up a carpet stain or wear and tear, developing a schedule of furniture moving can help your carpet wear evenly across most of it. You'll be forced to develop new walking paths and high-traffic carpet areas will evolve. It's still important to have your carpet professionally cleaned in between moving furniture pieces, and to vacuum regularly. But making a switch in furniture placement not only evens out your carpet usage, it will give new life to a room and its contents.
Most common sources of carpet stains >>
Step Lively
Stairs are one of the most heavily trafficked areas of a home. And it's usually the middle of each stair that gets the most usage. Even if people are holding on to the hand rail on either side, the walking happens in the center. But you can make an effort – for the sake of the life and look of your carpet – to move up and down the stairs in different ways. Test your brain to work in a new direction and walk to the side of the stairs as often as possible. Challenge your kids to seek out new ways to stomp up and down the stairs that does not involve moving directly up the middle. You will need professional carpet cleaning treatments for your stairs especially at least once or twice annually, if not more often, but every little effort to combat high-traffic pathways can help preserve your carpeting.
The importance of carpet cleaning for pet owners >>
Get Hands On
Maybe you just hate to vacuum. If this chore isn't something you can assign to one of your children because they're too small, then invest in a handheld vacuum that's quickly and readily available. Making it part of your daily cleaning routine to zoom over the high-traffic areas in your house can help ward off surface dirt and dust and grime from getting ground into the carpet fibers. The handheld vacuum won't make up for deep cleaning from a high-power vacuum or from a Michigan carpet cleaning, but it is a good intermediate effort if you keep up with the speedy vacuuming on a daily basis.
4 dangers of DIY carpet cleaning >>
Purchase Carefully
If you know that the carpet in your home is going to get some serious use, be wise about the type of carpet you select for installation. Some carpet types hold up far better to heavy use, such as berber, cut pile, level loop pile, or frieze carpeting. The shape, twisting, and durability of the carpet fibers make it much harder for grime to settle into high-traffic areas, which means wear is hidden far more easily. These choices don't excuse you from professional carpet cleaning treatments or regular vacuuming, but they can certainly help maintain a beautiful appearance for far longer.
Of course, plastic runners, area rugs, and throw rugs can all be a helpful addition to high-traffic areas, but these solutions are not always ideal for busy families, and these items need to be cleaned as well. It is certainly far easier to buy a smaller area rug than to replace an entire room of wall-to-wall carpeting.
Need some serious high-traffic carpet-cleaning assistance? Contact Nu-Way Carpet Cleaning in Macomb, Michigan, to discuss your carpeting.