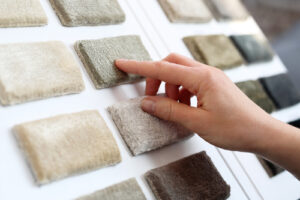 Choosing the right carpeting can be complicated. There are many options available, and there is far more to consider about carpeting for your home than just color and plushness. You want to choose a carpet that has longevity, is healthy for your family, and is also easy to clean. Here are the factors to consider as you make decisions about what's underfoot in your home.
3 smart choices for basement carpeting >>
1. Fiber
Your home carpet can be constructed of a variety of fibers. The most common options include nylon, polyester, olefin, and wool. The performance and durability of nylon carpet makes it one of the most common choices for home use. The carpet fiber selection is an important one. This decision impacts how well your carpet stands up to traffic and resists stains and mold growth.
4 dangers of DIY carpet cleaning >>
2. Fiber Construction
If you want to get into the nitty-gritty details of carpet construction, the fibers are affected by several elements: how the yarn is processed, the size of the yarn, and the tensile strength of the yarn. Cut pile is durable and made of twisted yarn. Textured plush cut pile or frieze cut pile are often the choices for busy households because they help hide footprints. Loop pile is an informal style that works well in high-traffic areas. Cut and loop has a multicolor effect that nicely hides stains (though this illusion doesn't take the place of vacuuming and having your carpet cleaned).
6 clever ways to childproof your carpet >>
3. Pattern and Color

There are so many variations of carpet color and pattern that will make the difference in how your home looks and how your carpet performs. If you go for a darker carpet color, you can expect that it will be far easier to hide soiling. However, darker colors could be subject to damage depending on how the carpet is produced. A white stain on a red carpet is just as unsightly as a dark stain on a beige carpet. Keeping your floor coverings clean regardless of aesthetics is critical to maintaining a healthy home.
5 secrets to falling in love with wall-to-wall carpeting >>
4. Backing
The type of carpet backing helps preserve its condition, as well as provide moisture protection, antimicrobial properties, and comfortable cushioning. Think about how your carpet would hold up should your lowest floor flood – the backing of your carpet could disintegrate, or it could hold up to serious damage after an emergency flood cleaning.
Everything Else
Of course, there are other elements that impact how well your carpet performs. The padding underneath your carpet will especially affect the feel of the carpet. Your choice of installers make a difference in the life of your carpeting as well – proper installation by an experienced team at a slightly higher cost is worth it to ensure the longevity of your carpet.
And, then there is the maintenance of your carpet. Annual professional carpet cleanings, as well as cleanings when necessary to manage large stains or high-traffic areas will maintain the life of your carpet. Plus, your home will feel fresh and clean, and it will be fresher and cleaner. A carpet that is free of mold and dust – in combination with clean ducts – is kind to allergy-sufferers especially.
Get the right kind of carpet cleaning for your chosen floor coverings. Contact Nu-Way Carpet Cleaning in Macomb, Michigan, to discuss maintenance needs for your carpets.