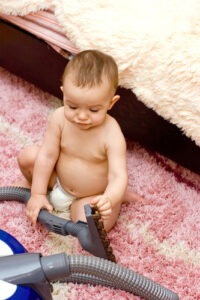 When you have babies and little kids running around your home, carpet cleanliness takes on a whole new meaning. Even if you have rules about not eating in the family room, or only doing crafts at the craft table, it is impossible to completely eliminate the kinds of stains caused by a child. From food spills to spit-up, diaper blow-outs to a rogue marker, kids manage to leave small and large messes in their wake. There are, however, some ways to successfully protect your carpet from the chaos of children.
The most common sources of carpet stains >>
Stain Proof Your Carpet
The first obvious solution to protect against child-induced carpet damage is to purchase a stain-resistant carpet. Seek out a manufacturer that offers carpets created with built-in stain resistance that will not wear off or wash off. The goal is to prevent stains from chemically bonding to the carpet, and it's the engineering of the carpet fibers that will make all the difference in this arena. That spilled sippy cup of juice will be no match for stain-resistant carpet. (You may want to treat your upholstery too, while you're at it.)
Invest in Area Rugs
It's worth investing in large area rugs to protect the wall-to-wall carpet underneath. Ideally, you will choose a rug with a busy or dark pattern that will easily mask any spills or accidents that may occur at the hands of a child. You can have the area rugs cleaned periodically and separately from your carpeting to ensure that they are not holding onto dust, allergens, dirt, and more.
4 ways to combat high-traffic carpet areas >>
Use Toys to Your Advantage
Once kids enter your home, toys are likely to end up everywhere. Take advantage of oversized items – like foam alphabet play mats or foam floor tiles – and set them up right over the carpeting in the playroom, family room, kids' rooms, or basement. Kids love a new and colorful surface to play on, and these tiles are a teaching tool and plaything at the same time they're protecting your carpet from little fingers.
Consider Carpet Squares
While carpet squares are traditionally intended for use on surfaces like hardwood, laminate, tile, and cement, it is possible to make them work in a carpeted room. Thick rug pads made for rugs that are on a carpet can help carpet squares stay in place. And the best part is, if one of the squares becomes stained, it's easy enough to switch it out for a new square. It may not always be easy to keep the squares in place – kids tend to love picking these up, stacking them, and making a game of the squares, but if you can treat the squares like an area rug, your kids are likely to follow suit.
Why carpeting (and carpet cleaning) actually helps allergy sufferers >>
Block Off Certain Areas
If your kids are simply going through a destructive phase, you may need to keep them out of certain areas of the home, including carpeted rooms. Let's face it, spills are just easier to clean up from tile or wood flooring. If you don't want to quarantine your child, though, some clever reorienting of the furniture can naturally help redirect kids away from certain parts of a room, or certain areas of carpeting.
Have Your Carpet Cleaned Regularly
It's recommended that you have your carpets cleaned about once a year. While your children are young and active, however, more frequent professional carpet cleaning treatments may be necessary to help maintain the life and appearance of your carpet. When you've tended to spills immediately but regular vacuuming isn't doing the trick anymore, it's time for deep steam-cleaning. To make sure your carpet looks good and stays fresh and clean for the health of your family, don't wait more than nine months in between cleanings.
5 reasons you must clean the carpet before baby arrives >>
Childproofing is not just about protecting your home from the kids, but protecting your children from harm. Regular Michigan professional carpet cleanings keep the little ones healthy and safe from allergens, dirt, dust, and more. Contact Nu-Way Carpet Cleaning in Macomb, Michigan, (offering carpet cleaning in sterling heights) to discuss stain proofing and to schedule your childproofing carpet cleaning service.