Sterling Heights Carpet Cleaning Services
Carpet Cleaning Sterling Heights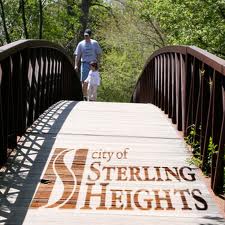 Your carpet takes a lot of abuse. Food or drink spills, muddy shoes, even your family pet can all wreak havoc on carpets and furniture. Carpet cleaning can improve your carpet's appearance and extend the life of the carpet. Professional carpet cleaning can help eliminate trapped pollutants in the air and improve your air quality. A once a year cleaning can also help clear our dust mite infestations and prevent mold growth. Contact Nu-Way Carpet Cleaning in Sterling Heights, Michigan to schedule your next professional carpet cleaning appointment.
Nu-Way offers a number of different types of cleaning services including:
Sterling Heights, Michigan
The city of Sterling Heights is located in Macomb County and one of Detroit's core suburbs. It is considered the second largest suburb in Metro Detroit and the fourth largest city in Michigan. Currently, more than 130,000 people live in Sterling Heights.
There is no shortage of fun things to do in Sterling Heights. Considered one of the finest communities to raise a family, it is home to exceptional neighborhoods, features a world-class library, numerous parks, upscale shopping at Lakeside Mall, and nonstop entertainment at Freedom Hill Amphitheater. The annual Sterlingfest Art and Jazz Fair in August often attracts more than 100,000 people and features popular Michigan jazz artists, an arts and crafts fair, family midway, and food from some of the best restaurants around.
Helpful Resources in Sterling Heights
Sterling Heights Car Accident Reports
Sterling Heights Police Department
40333 Dodge Park Rd
Sterling Heights, MI 48313
(586) 446-2800
Sterling Heights Fire Reports & Ambulance Run Sheets
Sterling Heights Fire Department
41625 Ryan Rd
Sterling Heights, MI
(586) 446-2950
Sterling Heights Hospital
Henry Ford Medical Center
14500 Hall Rd.
Sterling Heights, MI 48313
(586) 247-2700
Sterling Heights Dog Bites & Animal Attacks
Macomb County Animal Control
21417 Dunham Rd
Clinton Township, MI 48036
(586) 469-5115
Macomb County Autopsy Reports
Macomb County Medical Examiner
43585 Elizabeth St.
Mt. Clemens, MI 48043
(586) 769-5214
Contact Us For Your Sterling Heights Carpet Cleaning Needs
If you would like to schedule a consultation or cleaning, please call us at (586) 991-3800. Only $25 per room! Nu-Way is a family-owned and operated business. We have been serving residential and commercial customers for over 30 years! We are dedicated to using environmentally safe products and our technicians are certified to use our state-of-the-art truck-mounted system. You'll love the results!