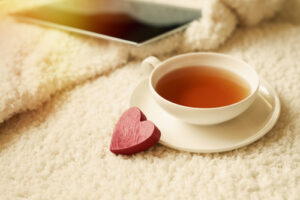 Maybe you live in an upper-floor apartment or condo and are required to have wall-to-wall carpeting. Perhaps you are renting and are not the decision-maker who chooses what floor coverings your home will have. Then again, you might have all the opportunity and room in the world to change your carpeting but you don't have the energy, resources, or desire to do so. If you must live with carpeting in your home (for whatever reason), but you're not particularly smitten with this floor covering, it's time to learn the secrets of falling in love with your wall-to-wall carpeting.
1. The Great Cover Up
Maybe your wall-to-wall carpeting is a completely noxious and outdated color. Fuchsia. Ruby red. Leopard print. Even if eclectic isn't your style, you can make the carpeting work for you with a little bit of cover-up, like an area rug. No one ever said you can't layer floor coverings. The look is unique, and cozy too. And, with a big enough rug, you might just be able to hide most of what you don't love.
4 ways to combat high-traffic carpet areas >>
2. Make It Work
Perhaps you are an eccentric being and your decorating tastes would be better served with a creative carpet color – but you're stuck with boring beige. Make it work for you. This shade of carpeting might be strewn throughout your home, but when light-colored floor coverings are kept fresh and clean, your home reflects the same vibe. Add personality and character – and draw the eyes away from the floor – with wallpaper, accessories, upholstery, and other décor. You'll forget the carpeting ever bothered you.
3. Do It for the Kids
You know it is way more appealing to lie down on a carpeted floor beside your kids to enjoy a board game, play with a toy, or wrestle. And watching your little one take his or her first unsteady steps on carpeting rather than hardwood, laminate, or tile flooring is far less panic-inducing for parents. Sure, your toes may find a lost Lego in the high pile from time to time, but this pain is a smile price to pay for an extra cushion against bumps and bruises.
6 clever ways to childproof your carpet >>
4. Consider the Assets
If you're wondering what to do with the carpeting under your feet, the carpeting that dominates a room, take your cues from the floor covering itself. If you're feeling especially uninspired about décor, the color of carpet can help you unify a room. Neutral and bland can become light-filled and calm when accessorized with white linens, window coverings, lamps, and other soft and texture-filled elements. Midnight blue carpeting paired with dark wood furniture and lush tapestries evokes richness rather than poor taste in carpet.
5. Baby, It's Cold Inside!
You live in Michigan! Who doesn't love a plush carpet to sink their feet into when climbing out from under the covers on a chilly winter morning, or even a brisk summer morning? Carpeting instantly warms you and gives your feet a hug to start the day. Plus, carpeting is a natural insulator that is durable and low-maintenance. There really is a lot to love about wall-to-wall carpeting.
Regular maintenance in the form of professional carpet cleaning will ensure that whatever is under your feet remains clean and free of dust, mold, allergens, pet dander, and stains. Your carpet might not look the way you want it to, but that shouldn't be because it's dirty. Contact Nu-Way Carpet Cleaning in Macomb, Michigan, to discuss carpet cleaning in your home, rental, or office.