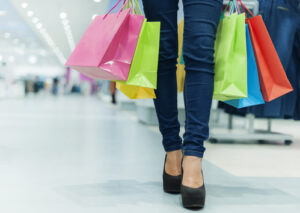 The success of a retailer isn't only about the merchandise offered. The atmosphere of a store is just as important – and that includes floor and carpet cleanliness. Whether your retail space is mostly carpeted, tiled, or otherwise, commercial cleanings keep the space looking fresh, clean, and worth a customer's time, attention, and money. Plus, a smart business goal is to provide a clean and healthy environment for all customers and employees.
Do some areas of your retail space need more carpet cleaning or tile cleaning than other areas? Consider the following:
Checkout Lines
If your checkout line is a carpeted area, and you are known to have lengthy waits from time to time, you can be sure that customers will have plenty of opportunities to notice what's wrong with your carpeting. Though people are often busy on their cell phones while standing in waiting lines, or easily distracted by impulse purchase items on display, don't take for granted that they won't notice a mightily stained carpet.
What types of carpet stains do you have? >>
Dressing Rooms
You want your customers to feel comfortable trying on garments in your dressing rooms. Filthy carpeting or dirty tile floors can be a big turn-off. A potential buyer can turn into someone who would rather skip testing out a pair of pants than take off their shoes and put their feet on the filthy-looking ground.
Why carpet cleaning helps allergy sufferers >>
Entryway
You only get one chance to make a first impression. A customer's entry into your store is just as important as their exit. Since your entryway is a high-traffic area, it can take a lot of abuse. Plus, if your retail space is not in an interior mall, your flooring will endure the residue of the elements, whether it's a rainy summer day or a snowy Michigan winter. While customers may understand why an entryway is messy, that doesn't mean the space should be taken for granted.
Must-have office cleaning needs for every corporate space >>
Displays
If you have carpeted displays showing off mannequins or merchandise, they can take some of the biggest abuse. Oils from hands, sticky fingers of children, an abandoned smoothie (that is subsequently knocked over) can all lead to stained and unattractive displays. While carpet cleaning can work in these locations, spot treatments and professional upholstery cleaning also get the job done to make sure that your highlighted items remain in the spotlight because of their benefits, not their dirty display.
The most common sources of carpet stains >>
High-Traffic Areas
There are roads less traveled as well as paths worn thin in every retail space. The high-traffic areas need extra TLC to ensure that they continue to look presentable. Plus, you want to expand the life of your retail flooring as much as you possibly can. Regular commercial cleanings deliver on both counts.
4 big benefits of commercial carpet cleaning for your business >>
Even if your carpeted area doesn't look dirty, you can bet it is. Foot traffic, especially over a Michigan winter or slushy, thawing spring, can leave a mess behind. Don't allow the elements, spills, or regular wear and tear take control of your floor covering. Contact Nu-Way Carpet Cleaning in Macomb, Michigan, talk about Sterling Heights carpet cleaning or to learn more about the benefits of regular carpet cleanings and tile cleanings at your retail business.