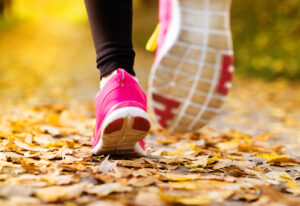 There is usually a focus on spring cleaning. But it is important to prepare your home for fall too, especially when it comes to your carpet. Allergy season is year-round, dirt and debris aren't going anywhere, and Michigan winters can be brutal – and all of these facts can impact the condition and health of your wall-to-wall carpeting.
5 carpet-cleaning reminders for back-to-school >>
Your Carpet May Be Deceiving You
You think your carpet is clean. After all, it looks clean and you've been walking around in bare feet all summer so how could it be that dirty? However, skin is covered in natural oils, and they are quickly and easily transferred to carpet fibers. This can lead to discoloration of the carpet, and it can transfer whatever is on the bottom of your feet right into the carpet.
A summer of walking around in the grass or on sidewalks or the beach leave your carpet filled with unmentionables. Plus, the usual can be found in your carpet – dust, allergens, pet dander, and so much more.
The effective, easy routine to care for your carpet >>

The Dirt and Debris of Fall
With cooler temps come new and different substances underfoot, from leaves to slush. Plus, it's time for cold temps – that means your windows and doors will be closed more often and fresh air will not be sweeping through your home regularly. Indoor air quality will be improved by clean carpets. Carpets become better filters for the fall and winter months when they are a clean slate.
Michigan carpet cleaning for your home >>
Carpet-Clean Early, Be Thankful Later
The fall moves quickly into winter. Before you know it, Thanksgiving will be upon us, and if you're hosting this year you know you want your carpet to look excellent for guests. Get ready early for the winter holidays. If you take the time to get your carpets cleaned in early fall, you will benefit from the last of the warm weather – and that can help your super-clean carpets dry more quickly.
4 ways to combat high-traffic carpet areas >>
Prepare for a Michigan Fall and Winter
While you are having your carpet cleaned, take the time to invest in air duct cleaning, upholstery cleaning, and tile and grout cleaning as well. Your home will feel, look, and smell so fresh, you can trick yourself into thinking the cold-weather months are not upon us. And if you are a lover of all things fall and winter, you'll feel cozy and warm in a home with freshly cleaned carpets.
4 factors to consider when choosing home carpeting >>
Fall is a beautiful season, and it's a dusty and dirty one. Your home and carpet will thank you for a thorough carpet cleaning from Nu-Way Carpet Cleaning in Macomb, Michigan. Contact us to discuss your carpet cleaning and home cleaning needs.